A wide variety of services at ACI's metal fabrication facility:
Drafting
Sandblasting
CNC Plasma cutting
Shearing
Punching
Drilling
Metal Lathe
Brake Press
Pipe & Tube bending
Notching
Plate & Sheet Steel Work
Welding
Grinding
Powder Coating
Virtual Tour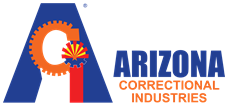 Case Study
Organization: Arizona Correctional Industries, Administrative Offices
Challenge: After moving into their new offices a secure space needed to be created where the fleet of vehicles could be parked off hours.


Solutions: Working with the property landlord and Metal Shop team within ASPC-Florence, a fencing system was designed to enclose a portion of the parking area behind the building. It included two sliding gates that could be closed and locked overnight and on weekends.

Case Study
Organization: Arizona Department of Game and Fish
Challenge: Every year there are boating accidents and drownings on the many lakes and streams around the state. The department staff had been providing training classes for years to reduce these numbers, but thought that they could substantially reduce drownings by providing loaner life vests on site by boat launches.


Solutions: Working with their ACI account manager and the Metal Shop team inside ASPC-Florence, a custom kiosk was designed and produced to hold the loaner vests. The kiosk includes detailed safety instructions and park rules.
The Game and Fish staff needed to be able to install the kiosks as needed, with two or three staff members. The production team provided templates they could use to position the concrete slabs to affix the kiosks. They also designed them for easy transport and on-site assembly.
More…
Products:
BBQ
Benches
Bike Racks
Bus Stop Shelters
Exercise Equipment
Grills
Fencing
Fire Rings
Institutional Solutions
Kiosks
Litter/Trash Receptacles
Patio Furniture
Picnic Tables
Shade Structures
Signs 3-D