Hickman's has taught and trained 2,500 inmates
On April 15th, 2015, the Hickman family hosted a luncheon at the WigWam Hotel in Litchfield to commemorate the twentieth anniversary of the extraordinary partnership between Hickman's Family Farms, Arizona Department of Corrections (ADC) and Arizona Correctional Industries (ACI).
Among the attendees were former Governor Jan Brewer, State Senator Judy Burgess, State Representative Phil Lovas, Assistant Maricopa County Manager MaryEllen Sheppard, and former ADC Director Terry Stewart.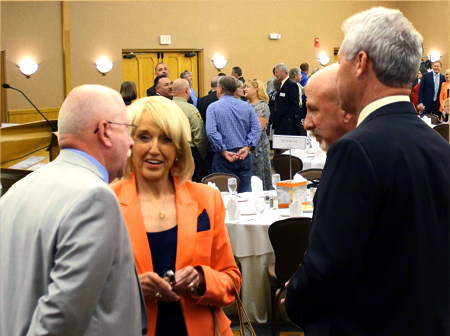 ADC Director Charles Ryan told those gathered, "It gives me great pride to work with the Hickman family and see the positive impact that our inmate work program has had for Hickman's Farms, for the inmates, and for the public."
Starting a business is much like a marriage both require a strong, upfront commitment. They are only entered into after very careful consideration, lots of planning, plenty of compromises and loads of promise. But despite all that, most simply don't last. And recent data confirms it:
Fifty percent of marriages end in divorce and average about eight years.*
Only a quarter of new small businesses last fifteen years or more, while only half make it to five years.**
Given these disappointing facts, the likelihood of two, very different organizations maintaining a successful business relationship for twenty years, must be very small. That's what makes the partnership between Hickman's Family Farms and the Arizona Department of Corrections so extraordinary. It takes two, very special organizations to keep a relationship going for that long.
Clint Hickman served as the master of ceremonies for the luncheon, which began with a video narrated by Billy Hickman and many of the people who are involved in the inmate program over the years.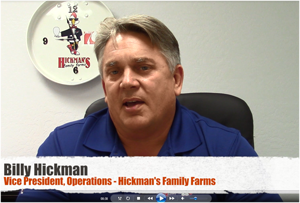 It began in 1995 under ADC Director Sam Lewis with a single work crew from ASPC-Perryville, where 10 men were trained to repair and assemble chicken coops. Retired ACI Director John Spearman and former Perryville Warden Dale Copeland were instrumental in getting the program off the ground.
That first small work crew proved so competent that Hickman's immediately began expanding the program, teaching inmate crews how to care for the hens and process the eggs.
These crews helped fill in the gaps in Hickman's labor pool and allowed them to expand and modernize their operations. Today, pulling inmates from three different complexes to work at three different Hickman locations, 186 male and 93 female inmates are learning new skills each day as they help to keep Hickman's expanding business running.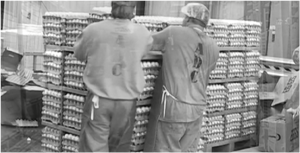 Over the years, Hickman's has taught and trained about 2,500 inmates, who have worked a total of almost 4,700,000 hours. Offenders were encouraged to learn about all aspects of the business from maintaining and repairing the coops and equipment, driving forklifts, moving pallets, welding, vaccinating and raising birds, working the production lines to helping with new building projects.
The training doesn't end when inmates are released. Hickman's regularly provides work references for former offenders and also hires former offenders after they're released. As exemplified by the last speaker, some of them have gone on to fill management positions.
To me, that sounds like success. Everybody wins: our two organizations, the inmates, and state taxpayers.
Hickman's obtains the resources it needs to grow.
Corrections fulfills its responsibility to provide inmates in its charge with meaningful work that provides skills and training they can use to take their lives on more productive course.
Inmates learn valuable job skills and, in many cases, are offered jobs upon their release.
And taxpayers benefit as tax revenues that might have gone to room and board for the thousands of inmates Hickman's employed over the years, was redirected to other important state initiatives. For instance, we estimate that more than five million dollars ($5,000,000) in earning deductions offset the Departments costs for housing and meals over the last 20 years. Another $206,000 went into restitution accounts.
Through this partnership and others like it, the Department is able to fulfill its responsibility to provide inmates a meaningful work opportunity that enables them to develop skills and training that can help them get a 'second chance' for a productive life – which is a primary objective of Corrections.
In fact, ACI work programs have proven to be the most effective tool to reduce recidivism. Whereas nearly 40 percent of inmates will return to ADC custody within three years, less than 26 percent of those who participate in the ACI programs during their time in prison will return.
State taxpayers see a savings as a result of work program partnerships too, since a portion of the inmate's compensation goes to offset some of the costs of their incarceration. That money is returned to the state General Fund – including more than five million dollars earned through the partnership with Hickman's.
A part of inmate earnings is paid into court-ordered restitution for victims of crime and their families, as well as to child support.
Director Ryan noted that the opportunity for inmates can continue after they are released, as Hickman's Farms regularly provide work references for former offenders, and some have been offered employment after their release.
Ryan gave a special thanks to the men and women – past and present – of the ADC and ACI for their hard work to make this partnership a success. He also expressed ADC's gratitude to Hickman's Farms and the entire family for their unwavering commitment to the Department and the success of meaningful inmate work programs.
Hickman's should be an inspiration for other businesses to seriously consider employing inmate labor. They took a chance on inmates – and it has proven to be worthwhile. ADC and ACI look forward to continuing this amazing partnership with Hickman's Family Farms for many years to come!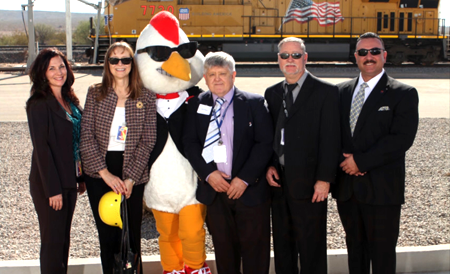 * 32 Shocking Divorce Statistics ** 16 Surprising Statistics about Small Businesses