ACI Employee Awards Recognition Event, October 8, 2015 PebbleCreek, Tuscan Falls Country Club, Goodyear, AZ 85395
Having spent most of my career in Corrections, I have grown accustomed to seeing headlines that focus on the negative, like the Kingman escape and recent riot. But last August I instead saw headlines like:
"Inmates Help the Injured After Prison Bus Crashes Into Semi" from The Huffington Post
"Arizona prison bus crashes as inmates tend to injured and direct traffic" from the Guardian
"Prison bus crashes; Unhurt inmates helped the injured" from the Associated Press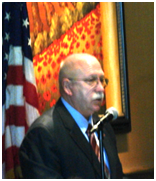 After getting past the horror of the accident, learning that the injured were being treated and would, hopefully, all fully recover, I thought to myself, "Thank you. Thank you for not making a terrible situation even worse."
As Huffington Post Associate Editor, Kim Bellware opined in her article "Everybody's seen the movies… I'm gonna have inmates scatter and we're gonna have 50 fugitives."
Of course, that's what we all imagined. Those guys could have fled to the four winds. But that's not what happened. Instead they stepped up, helped out and behaved like model citizens. This doesn't just happen. Arizona doesn't simply have a better class of offender. The behavior of those inmates that night is a reflection of how the Department's Support Services Division, especially ACI, is making a positive impact on the lives of offenders.
I'm proud of how those inmates responded and proud of the ACI supervisors who helped transform them into a smoothly functioning team:
Instead of heading for the hills, two of the inmates tended to the bus driver's wounds: one putting pressure on severe cuts to stop the bleeding, the other keeping his airways clear so he could breathe as they awaited rescue crews.
Instead of disappearing into the night, several other inmates tended to their injured colleagues and the other injured supervisor.
Instead of hitting the road, other inmates helped direct traffic around the accident scene, preventing more crashes and injuries.
By instilling a sense of team spirit, ACI transformed those inmates into people who genuinely care about and respect each other. As one inmate remarked at the scene, "We're a team, we have to work together."
In the two short years of our partnership with Alliance Truss, the program has more than doubled. From the work crew of 22 that first ventured to Casa Grande to learn how to assemble building components, today 50 or more of them make that trip each day. The folks at Alliance Truss tell us that our ACI work crews consistently out perform their civilian crews. This program generated more than half a million in revenue for ACI last year. It has quickly become another successful private business partnership that will, hopefully, continue on for years like our Hickman's Family Farms and Televerde partnerships — both celebrating 20 successful years in 2015.
Today's luncheon is in recognition of outstanding work of the ACI staff, people like Bob Nyswaner, the bus driver injured in the crash who, during the year before the crash had earned the respect of the inmates in his charge. After a month in the hospital, Bob is on the mend at a rehabilitation facility today and, hopefully, will soon be his old self again. I know many of you have been keeping him and his family in your thoughts and prayers these last few months. I know he appreciates your support.
Just as I appreciate the hard work that you do every day to support the Department mission and stories like this remind us of how we are making a positive impact on the lives of inmates. But ACI goes well beyond that by making a very positive economic impact for the State of Arizona.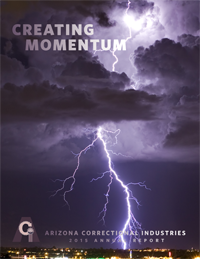 A record sales year, a new high mark in net income and another great year in inmate hours worked. Fiscal Year 2015 saw ACI surpass budget every quarter in all three of these categories. Congratulations. And thank you for making it happen.
Despite some major disruptions in operations like the industrial yard shut down and relocating ACI central offices, you all kept us on track and on mission, proving that some government agencies can perform like a well-run business.
Once again, thank you. Thank you for these positive outcomes. Thank you for creating some positive headlines.