Recycling Makes Financial Sense and Good Corporate Citizens
This article originally appeared in the Summer 2014 issue of NCIA News. For more information on NCIA News, please go to National Correctional Industry Association.
Several years ago, while ordering material for our commodities manufacturing shop, Al Wesley, a regional manager for Arizona Correctional Industries (ACI), noticed that the cardboard and plastic used to manufacture corrugated boxes and trash can liners were made from recycled materials. So when Wesley made the next order of materials for the production of mattresses, he asked his supplier where they got their raw materials. The supplier informed Wesley that most of the material was comprised of recycled clothing and linens. At the time, Arizona prisons were simply throwing out discarded clothing and linens, so Wesley asked the supplier if ACI could sell these discarded items for recycling and thus partially off set the cost of the cores and padding that ACI was purchasing. ACI and the supplier agreed. A deal was struck and a new partnership was forged … one where it's not only good for the environment, but good for both businesses as well.
Originally, ACI had not set out to become an environmentally-conscious organization. But suddenly it was on this path with the start of the ACI Green Initiative. Throughout the organization, managers, staff, offenders and business partners began to look for similar opportunities where instead of paying landfill fees, discarded materials could be recycled.
Today ACI gratefully accepts:
Cardboard boxes from all ACI shops and other prison operations
Box scrap from our box manufacturing shop
Coated paper rolls from the license plate shop
Discarded offender clothing from ADOC and private prisons operating in Arizona
Discarded denim clothing
Scrap fabric from our garment shops
Plastic drink bottles, plastic milk containers, plastic scrap from ACI's bag operation
Plasticized twine
Ultra touch mattress cores
Cotton mattress pads
Mattress coil springs
Today, ACI shops and labor partnerships play a significant role in protecting the environment, reducing waste, and preserving natural resources. All company vehicles use FlexFuel technology and are maintained to perform at peak efficiency for better gas mileage.
Furniture Refurbishing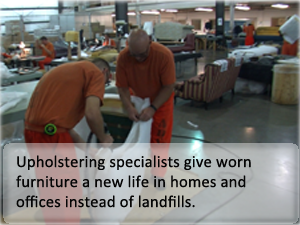 Soon after the ACI Green Initiative launched, a favorable article about our reupholstering capabilities appeared in the local newspaper ("Florence prison upholstery shop is Valley decor secret," by Jaimee Rose - March 30, 2010; The Arizona Republic) and ACI became the go-to shop for refurbishing furniture. Public and private businesses – as well as private citizens – across the state bring their worn, dated, stained and otherwise damaged furnishings and ACI shops make them look new again. Since then, ACI shops have refinished living and dining room furnishings, offices, dorms, courtrooms, conference and committee rooms for both houses of the state legislature as well as the governor's offices. After one recent project, refinishing upholstered chairs for the Senate, several staff members remarked that they hadn't realized there was wood on the chairs, they'd been so tarnished they had looked like painted metal.
Water Resourcing
ACI has had a farming operation since its inception back in 1986, providing real-world agricultural training to hundreds of offenders while supplying alfalfa to local farmers and ranchers. Since last year, through a partnership with the US Bureau of Land Management, much of the alfalfa crop now feeds wild horses and burros that might have perished had they remained on federal lands that can no longer sustain them.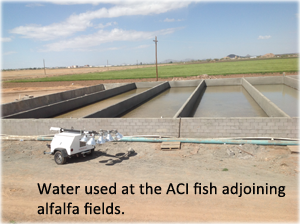 Working hand in hand with these agricultural efforts, another new ACI initiative, begun in 2013, brought fish farming to the Arizona desert. So far the fish farm includes eight concrete raceways (108 feet long x 10 feet wide) for breeding and raising some 100,000 tilapia and two earthen ponds where more than 64,000 catfish are maturing.
Located outside the prison at Florence, AZ, on land with two functioning wells, the fish farm provides very unique training for dozens of offenders. The precious water continues on to irrigate the alfalfa crops in the surrounding fields.
Recycling Partners
Closed Loop Refining & Recovery, Inc.
ACI provides a reliable, trainable labor force to Closed Loop Refining and Recovery (CLRR) in its effort to reduce global carbon emissions and recover lead (Pb) without polluting the environment.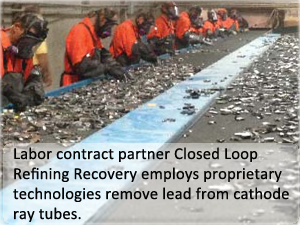 Using their proprietary technology, CLRR processes cathode ray tubes (CRTs) and extracts lead (Pb) from the funnel glass. The technology is environmentally safe, energy efficient and does not volatilize the lead during the process. CLRR is initially set-up to recycle 3,000 tons per month in the company's 75,000 square foot facility in Phoenix, AZ, with plans to expand to other markets as opportunities arise.
Earth Friendly Building Materials LLC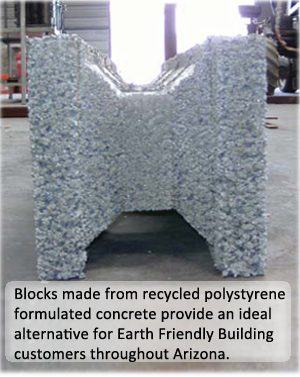 ACI partners with Earth Friendly Block (EF BlockTM) in transforming recycled polystyrene into durable, fire-resistant, insulative blocks that are easily stacked and shaped into almost every possible construction design. The finished blocks are seven times as strong as wood-frame construction and take various types of coatings and finishes. These blocks are manufactured at ACI's facility in Kingman, AZ.
The patent-pending EF BlockTMtransforms standard recycled polystyrene and plastics into durable, fire-resistant and highly insulative blocks that are easy to stack and shape into just about every construction design you can imagine. EF BlockTM will have an everlasting positive impact on the environment through strength in construction, thermal energy savings, and the recycled use of materials that would otherwise be sent to landfills.
Working with its vendors and partners, ACI has found many ways to be more environmentally responsible. We will continue to develop new recycling opportunities and form partnerships that promote sustainability.
Clark DesSoye – September 15, 2014