Working with ACI, "you really hone skills like teamwork, professionalism, communication, problem-solving, and flexibility/adaptability"
This article originally appeared in the Winter 2019 issue of NCIA News. For more information on NCIA News, please go to National Correctional Industry Association.
As a bright teen with a zest for life, Stephanie Ray experimented with drugs and alcohol during high school and beyond. After years of these behaviors the abuse was beginning to take its toll, but it was not until Stephanie's second arrest for aggravated DUI that her lifestyle got the better of her, resulting in a five-year prison sentence.
Entering the Arizona State Prison Complex at Perryville in August 2009, Stephanie started her sentence on the Santa Cruz unit. In a large yard with over 700 women, the chances of finding a job early on were small. Some women had waited over a year, but Stephanie had been told to try for a teacher's aide position, and she managed to get in to test. By September 2009, she became an aide in education. While at Santa Cruz, Stephanie had heard about Arizona Correctional Industries (ACI) jobs, but until her custody level changed, she would stay an education aide.
Reclassification came in 2010 and Stephanie was moved to the Santa Rosa unit. The transfer to this unit would prove an important step in Stephanie's growth over the coming years. Here she would start her classes at Rio Salado College and have the opportunity to apply for a job at ACI. The first position she applied for at ACI was in accounts payable. Having no accounting background but the will to learn, she began her job at ACI in July 2010. Stephanie took to accounting and absorbed as much as she could. Her supervisors made sure she had exposure to all aspects of the process, and, by the end of her time in the department, she seriously considered a career as an accountant.
After a year in accounting, an opening was posted in the sales department as assistant to a sales representative. Customer service jobs had always been something she had enjoyed earlier in her life, so she decided to apply. That would be the position she would stay in until her release from prison.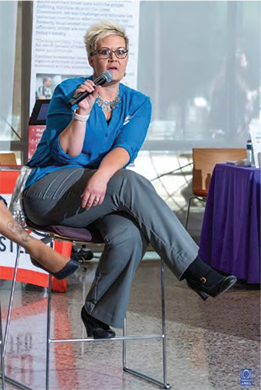 Using the credits she earned at Rio Salado College, Stephanie ultimately determined to build upon that foundation and got her General Studies diploma in 2013.
Next, Stephanie finished Northland Pioneer College with an Associates in General Studies in 2014. She then went on to achieve a Bachelor of Science in Public Administration from Northern Arizona University in 2015. She then completed a Master of Arts in English with a Professional Writing Emphasis from Northern Arizona University in 2017.
Following some good advice and the practical demonstration of a positive outcome, Stephanie credits her supervisor Erika Seborg at ACI for inspiring her to use her community college credits in the NAU 90/30 program, just as she had seen Erika do during her time working at ACI. She also credits Erika's recommendation of seeking the advice of Bill Branson, director of training and development for Televerde, in helping her make some valuable decisions regarding education and grants.
After release, she worked to support herself and her children while going to school. Stephanie took a job as a grants management intern at the City of Show Low in 2015. Spring-boarding from that position to working for Arizona@Work as a grant writer/workforce specialist, she was able to help the unemployed and underemployed reach self-sufficiency. Demonstrating her work ethic and ability to problem-solve, Stephanie secured the position of assistant economic and workforce director for Arizona@Work Navajo County in 2017.
Stephanie was one of the panelists chosen for the first Reentry Forum held at the ASU Law School in Phoenix in 2017. She was able to tell her story and inspire business leaders who may have been reluctant about hiring those with barriers to employment. Her hard work and ingenuity with Arizona@ Work was recognized by its leadership, and Stephanie was appointed executive director in April 2019.
Stephanie continues to strive to improve conditions for the under-served in Navajo County. After starting her own non-profit to better coordinate services and leverage resources, several community-based organizations joined her to create the Northeastern Arizona Community Resource Network. This organization has three goals: create a comprehensive network of service providers; implement a technology-based system that allows for common intake, referral, and communication regarding customer needs; and develop resource centers throughout Navajo County where individuals can access resources enabling them to move out of poverty and into self-sufficiency.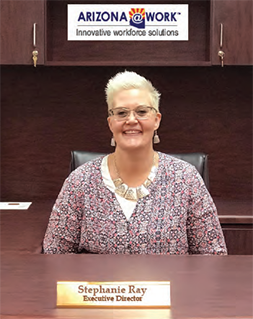 Regarding Stephanie's ability to work, study, and be there for her children, she cites her ACI work days. "When you maintain that kind of schedule for several years, you get into a groove, and after my release I was so used to getting up super early every day, that it really helped to fuel my ability to keep up with everything."
Stephanie also credits the personal integrity she developed in CI: "Working with Erika Seborg and many of my other mentors at ACI, I developed a strong sense of doing what was right over what was quick and easy. To be of best service to Erika, I needed to constantly push the envelope, and to be creative in order to help her grow her customer base."
One of the most important things that Stephanie said she received from her time at ACI is her ability to use soft skills. "Having to interact with customers and staff and other incarcerated individuals all day long, you really need to hone those skills. Skills like teamwork, professionalism, communication, problem-solving, and flexibility/adaptability are things I use every day in all my interactions, both personal and professional."
Shortly before Stephanie left ACI, she worked with Fred Siegel, the account manager who represented Navajo County, on an order for custom trash receptacles for the city of Show Low. "Every morning when I pull into the parking lot at work those trash cans are the first thing I see, and it always makes me think of ACI and my time there."