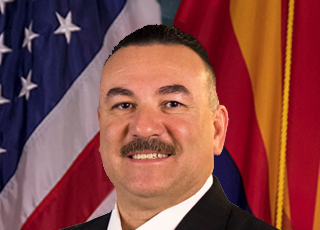 ADCRR employee since 1991
My family migrated to the United States from Mexico and have always instilled in me to work hard, do the right things, and surround myself with honest, hard-working people. I grew up in San Simon, Arizona, which is a small farming community in Southeastern Arizona (on the New Mexico border). I attended San Simon High School, Rio Salado Collage, and I have a Public Managers Certification through Arizona State University. I also hold several certifications within the corrections profession. Prior to working directly for ACI, I spent 20 years inside seven state-owned prisons where I started as a Correctional Officer. I retired from Correctional Officers Retirement Plan as a Major. Prior to my ADCRR career, I worked for sub-contractors in various mining communities in Arizona and New Mexico.
I started my career in corrections at the age of 21. I've been able to gain experience in all custody levels - working with both male and female populations, including inmates with mental health challenges. I was exposed to many facets of human behavior during my twenty years of service and found that many who are incarcerated mean well and want to do well.
In 2011, I was given an opportunity to return to the ADCRR as part of the IPR Division working in Arizona Correctional Industries (ACI). At ACI, I have been able to be part of a platform that allows inmates to make positive changes through hard work and accountability, thereby beginning their reentry process. I have been in a leadership role during 21 of my 26 year tenure, and use the Lincoln on Leadership Principles, as I believe him to be an exceptional leader, manager, and mentor.
I often tell inmates who are part of the ACI program, "This is the side of the Agency I enjoy most after 20+ years because I get to see the good in those who truly want a second chance."
I believe I continue to make a difference within ADCRR! Being a small part of a platform that allows incarcerated individuals to make a choice to learn marketable job skills and not return to prison is a positive financial impact on the tax payers. The Labor Contract sector has an amazing team that provides outstanding opportunities for both ADCRR and private sector businesses within the State of Arizona.
My decompression time is spent with my family. We are avid outdoors people and spend time fishing, camping and hunting. My wife and I spend as much time as we can on our motorcycles and enjoy seeing the country on two wheels.