ACI Employee Awards Recognition Event, October 8, 2015 PebbleCreek, Tuscan Falls Country Club, Goodyear, AZ 85395
Director Ryan's Presentation to Televerde's James Hooker
James Hooker began working with us in 1995 as he was launching his new company from a converted motel. Our partnership started that same year with five inmates in a small trailer at the Arizona Correctional Facility for Women. It quickly expanded to a daily work crew of 25 that first year. Today almost 300 inmates fill call center seats daily for Televerde operations at the Perryville complex.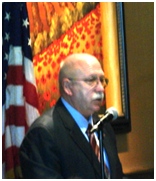 Most ACI labor contract partners and customers share ACI's commitment to improving the lives of the inmates in the program. But Jim and Televerde take that commitment several steps further.
Televerde managers share their knowledge of operations and business with the "ladies" working for them at Perryville. They go well beyond on-the-job training necessary to perform their jobs. They provide tools to help inmates set career goals, targets, timelines. They put them on a realistic pathway toward where they want to be.
As one former inmate, now an HR manager at Televerde said, "I wasn't just working for the pay check. I began to see it as working for myself. Working toward the goals I began setting." Televerde put together a voluntary transition program, certified with the ADC, called TOPS. Inmates in the last year of their sentences participate in a wide variety of workshops and classes on topics like writing a resume, building healthy relationships, learning the habits of successful people, and financial management. More than 600 inmates have graduated from the TOPS program which today boasts a recidivism rate of just 8.7% for graduates!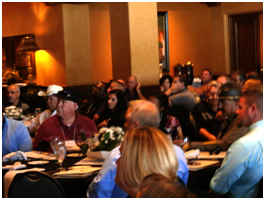 Three years ago Televerde created a non-profit designed to assist recently released offenders reintegrate using the successful approach of its TOPS program. The Arouet Foundation, run by former ACI CEO Bill Branson, also offers TENS scholarships to former inmates who have earned at least an Associate's degree. More than 70 scholarships, totally more than $70,000, have been awarded to date.
The collaboration between Televerde, ACI and the Department of Corrections is strengthened every year when Televerde hosts annual site tours for Wardens and other top facility managers. It is an opportunity to show how they are working, explain their programs and projects and solicit recommendations for improving their security measures and operations within the complex. But throughout the year, their ACI team helps keep the seats filled and operations moving smoothly. They are currently looking into ways to expand operations at Perryville.
25% of inmates who work with Televerde on the inside get jobs there upon release. Other call center organizations actively recruit inmates who worked with Televerde because they know they've been well trained. More than 250 former inmates have worked at Televerde after release. Many moved onto new organizations, leveraging their experience to find new careers, a few relapsed, and today more than 100 ex-offenders work throughout Televerde: the call centers, sales, marketing and human resources.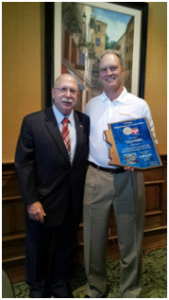 Labor contract partnerships like this represent other positive developments that do not get headlines but certainly make a huge impact on the State's economy. Several of these partnerships that have seen small businesses, like the 1995 iteration of Televerde, grow and flourish over the years, creating inmate jobs but also thousands of civilian jobs as well.
During that twenty years, Televerde has generated more than $5.5 billion in revenue for more than 2,000 business-to-business clients. Some of those clients include international industry giants like SAP, Adobe, Cisco, Honeywell, HP and Microsoft. Those of you who have visited the Perryville operation have no doubt seen the signed poster from Bill Gates with the message: "To Televerde, Keep up the great work."
It is wonderful to see how Televerde has become the industry powerhouse that Jim imagined and we're very proud to have been a part of that journey with him.
Prior to founding Televerde, Jim Hooker served as President and COO of Pacific Corp Capital, one of the top five diversified computer leasing companies in the U.S. He also served as an Executive Vice President for Pacific Atlantic formed through a merger with a Bell Atlantic subsidiary. Having begun his career with IBM, he also was involved in three successful start-ups including Ceres Capital Corp., where he was President and CEO.
Today, as President & CEO, Jim establishes and guides Televerde's strategic focus as a premier provider of integrated lead to revenue services. His mission is to help clients solve complex problems through market intelligence and demand generation programs. Stellar results, that consistently exceed their expectations, have enabled Televerde to maintain long-term relationships with leading B2B tech and non-tech companies. Jim strongly advocates providing clients with a second-to-none experience based on extreme customer service and the best return on investment attainable. The goal he sets for the Televerde team is clear: Set the bar on great performance and then continually drive to exceed it.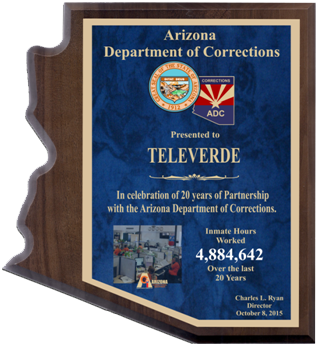 Jim, in recognition of our twenty year partnership that has generated:
More than $30 million in revenue.
Including $24 million in inmate compensation.
An average inmate workforce of 122 per work day.
A total of 4,884,642 inmate work hours.
More than 600 "graduates" from its TOPS transition program. A program certified by ADC to assist inmates as they move from incarceration to civilian life.
An incredible 8.7% recidivism rate for TOPS alumni, well below the state average.
We present Televede with this plaque, celebrating our twenty-year partnership.
After the presentation, Jim Hooker discussed how much Televerde appreciates the cooperation of the Warden and staff at Perryville, as well as the entire Department and ACI. He reinforced his support for programs like ACI and how programs like it around the world are being recognized for the positive impact they are having in reducing recidivism.