Televerde Helps Bring Business Skills to Inmates
This article originally appeared in the Winter 2014 issue of NCIA News. For more information on NCIA News, please go to National Correctional Industry Association.
"I was relieved," Rebecca Morgan explained as she recalled her state of mind when she was arrested. For the previous three months, she and her boyfriend had been living in a stolen rental van. They only ventured out when the Crystal Meth supplies were exhausted, doing whatever they needed to — "mostly illegal stuff" — to score more drugs.
"For years I had just been flying by, no plans, no career goals. Just putting in my time at work for that pay check: my ticket to another high weekend." Rebecca recalled, "I figured I was in control because I could hold down a job during the week. But, eventually, after lots of short-term jobs, being high was more important than all of that…"
A self-described "middle-class, military brat," Rebecca admits that she has no excuses for turning to a life of partying and drinking at 13, getting hooked on crack at 15. "I somehow managed to finish high school, figuring 'now I've got more time to party,'" she went on. Working at various types of office work, in call centers and even earning certification in dog training and grooming, were all just short-term means to each weekend's "good times."
"Nothing else mattered," Rebecca painfully recalls, "I mean, I had a daughter that my mother took away from me. I couldn't care for her. I was such a mess and those, so-called 'good times' were a constant game of duck and hide. We knew that at any moment, bang, we'd be busted."
"So, yes. When we were arrested, I was relieved," she reiterates. "During my time in county I got clean and that was a great feeling. By the time I went to ASPC-Perryville in 2002, I was ready to make some changes. I took advantage of everything I could: drug programs, women in recovery, Rio Salado College computer classes, several of the anonymous groups."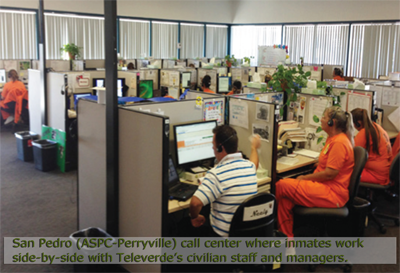 Rebecca recalls that many of the anonymous groups struck her as nostalgia sessions with women talking about their favorite drug experiences. "But the co-dependency anonymous group struck a positive chord for me," she said. "Through that I realized that my addiction was not so much to the drugs but to the men I had been with. When I was on my own I didn't use. But the men I became involved with all used, so I used with them. I finally realized that I didn't need the drugs or the men. I could take care of myself, and eventually, get my daughter back, make a home for us, have a real career."
Then she saw a posting for call center jobs right in the Perryville Santa Cruz Unit. Televerde, an Arizona Correctional Industries partner with since 1995, relies on inmate labor in the call centers it operates within and outside Arizona prisons. Started with 5 inmates in a small trailer at the Arizona Correctional Facility for Women (ACW), today up to 270 inmates fill call center seats daily for Televerde inside Perryville and in their corporate offices on East University Drive in Phoenix. Call centers are also housed in the San Pedro, San Carlos and Piestewa (Citrus) Units. Some inmates from the Santa Rosa Unit take the trip across the yard each day to work at the Piestewa Center. Working closely with ACI and the Perryville Warden's office, Televerde can recommend inmate transfers to lower security units based on job performance and their professionalism.
"Working with Televerde allowed me to step out of my orange ever day for 8 hours," Rebecca said. "I spent my days talking to decision makers at businesses across the country. I was a professional. And I was constantly learning." For her, the opportunity to learn was paramount. "Up and down the organization Televerde managers share their knowledge of operations and business. Provide tools to set career goals, targets, timelines, a realistic pathway toward where you want to be. My addiction changed from drugs to business accomplishments."
"I wasn't just working for the pay check (I wasn't going to see most of it for three and half years anyway). I began to see it as working for myself. Working toward the goals I began setting. It wasn't just a trip to the next weekend. It was a journey to a better future for myself and my daughter." "It was — actually still am — amazed at how supportive management is. During those years inside I was learning new aspects of effective business practices constantly," Rebecca continued. "As my release date neared, I discovered another great resource the company provides: Tops."
Televerde's TOPS is a voluntary transition program for inmates in the year before release. It offers a wide variety of workshops and classes on topics like writing a resume, building healthy relationships, learning the habits of successful people, and financial management. More than 500 inmates have graduated from the TOPS program that is now certified with the ADC. The recidivism rate for graduates of the program is less than 10%.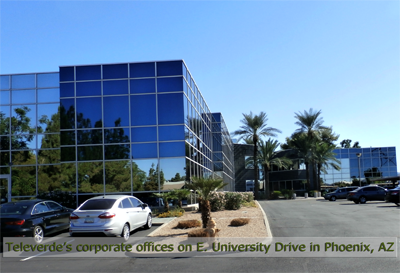 Rebecca recalls, "sitting in the classes, I listened intently to Vania Black." Vania ran the TOPS Program while Rebecca was transitioning out. "She was amazing. I remember thinking to myself, 'Iwant to do THAT!'"
Released in 2005, she enjoyed what is known as a "soft landing" right into her job at Televerde. "Having a job you know how to do, working with people you know and who know you, your work ethic, allows you to deal with the other stuff. Finding a place to stay, figuring out transportation, the ability to deal with day to day logistics of life that I'd simply lost the last few years before I went inside. And then had someone else do it for me inside."
Rebecca paroled out to her grandmother's house where she could maintain a stable routine, going to work each day, evenings and weekends with "my granny, she's great!" Rebecca exclaimed. "I started visitation with my daughter, but I wanted to wait until I had a place of my own before I resumed custody of her. I got married to her father (who was released at the same time as me) and we worked to get a house. And then we were a family for a while. My daughter was still young and acting out in response to all the changes. Then he started doing squirrely things, heading back to shading dealings and hanging out with his druggy friends. So it's just the two of us now and we've worked through the bad stuff…"
Once out Rebecca could strive for promotions and transfers to higher paying positions. And her work performance and drive soon took her into management, where there were even more opportunities to learn and grow professionally. "Most companies have these lofty mission statements posted in their lobbies that end up meaning nothing at all because they're just words on a plaque," she commented. "But here, they mean everything. From the day I sobered up in county and decided to change my life, I've pretty much been on that mission, living those values."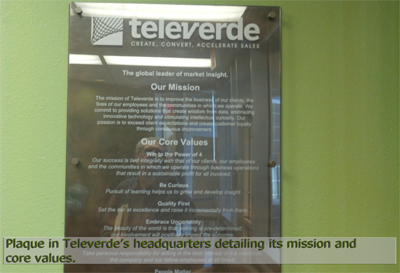 The mission of Televerde is to improve the business of our clients, the lives of our employees and the communities in which we operate. We commit to providing solutions that create wisdom from data, embracing innovative technology and stimulating intellectual curiosity. Our passion is to exceed client expectations and create customer loyalty through continuous improvement.
Our Core Values
Be Curious: Pursuit of learning helps us to grow and develop insight.
Embrace Uncertainty: The beauty of the world is that nothing is pre-determined; our involvement will positively impact the outcome.
Step Up: Take personal responsibility for acting in the best interest of the customer, the company and our fellow employees at all times.
People Matter
But Rebecca still had another major hurdle to overcome. Part of her sentence was to pay restitution of $18,000, with her co-defendant (and later husband, now divorced). She managed to pay off, on her own, through ACI earnings, $8,000 before she was released. But in subsequent years, once her "debt" was handed over to the County Collector, "with 10% interest compounded daily," Rebecca exclaimed, "it grew to over $18,000 again." She felt she would never clear it, never be able to buy a home or a car without that lien on it. After a car accident, the money from her insurance company to pay for repairs was, instead, seized by the County Collector to use toward restitution. Rebecca's frustration grew. She spoke to an inmate advocate lawyer who advised her to "just put everything in your mother's name or your daughter's." That did not seem right to her. Instead she did some research, dug through the endless pages of forms and filings on the various state agency sites and eventually discovered a form that she could submit to petition the court to forgive the interest because she had been paying on it faithfully every month.
On the appointed day, she took a day off work to sit in the courtroom watching dozens of people go through what she had in 2002, leaving in handcuffs. "I had to keep reminding myself that I would be walking out of court without an armed escort," she recalled. "I finally got to present my case and the judge granted my petition. The next day I borrowed money from my 401(k) to pay off the remaining $2,700 of the debt principle." The County Collector reluctantly, eventually, cleared the case and Rebecca finally got a new start.
While moving up through management at Televerde, she also earned her Associates Degree in 2008 and her BA in 2013. "The company is very supportive of higher education, providing tuition reimbursement and scholarships," she explained. Last year she earned her PHR certification (Professional in Human Resources). "That was scary," she admitted, "because I went through months of intense studying and training, and then, as I was filling out the application for the certification exam, there was 'the box' asking 'have you ever been convicted of a felony?' There was only a tiny space where I could explain. But I was also able to get letters from my managers here and I was allowed to sit for the exam. Convicted felons rarely work in HR, I'm lucky," she beamed, "and grateful that working here has helped me reach this dream. Now I can be for the ladies inside now, what Vania was for me."
Rarely does an ex-offender ever get cleared to work as a contractor within a prison. But working with Televerde management and ACI's Glen Davis, VP for Operations, Rebecca now has a contractor's badge, allowing her to fulfill her job duties in Perryville. She is one of only two former inmates (the other also works for Televerde) to qualify for that status.
Three years ago Televerde took its TOPS program and created it into a 501c(3) non-profit designed to assist recently released offenders reintegrate. The Arouet Foundation, run by former ACI General Manager Bill Branson, also offers scholarships to former inmates who have earned at least an Associate's degree. They have provided more than 50 scholarships totally more than $50,000.
"Arouet is 100% funded by Televerde employees," Bill explained, "we are searching for other funding sources and looking to expand the program nationwide." It is now also eligible to apply for federal grants.
The collaboration between Televerde, ACI and the Department of Corrections is strengthened every year when Televerde hosts annual site tours for Wardens and other top facility managers. It is an opportunity to show how they are working, explain their programs and projects and solicit recommendations for improving their security measures and operations within the complex. But throughout the year, their ACI team helps keep the seats filled and operations moving smoothly. They are currently looking into ways to expand operations at Perryville.
25% of inmates who work at with Televerde on the inside get jobs there upon release. Other call center organizations actively recruit inmates who worked with Televerde because they know they've been well trained. More than 200 former inmates have worked at Televerde after release. Many moved onto new organizations, leveraging their experience to find new careers, a few relapsed, and today 80 ex-offenders work throughout Televerde: the call centers, sales, marketing and human resources.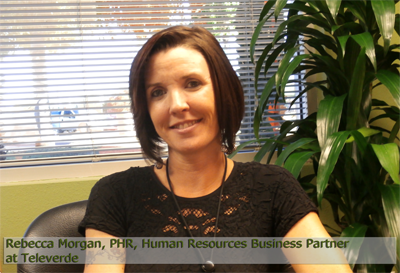 During the 2013 Annual Meeting in Florence, AZ, Rebecca Morgan, PHR related her personal story of triumph over past mistakes to the entire ACI team, reinforcing why ACI exists. Today Rebecca is a Human Resources Business Partner at Televerde's Corporate Headquarters in Phoenix. Her daughter is 16, learning to drive and aiming for the honors program in her high school. Drugs and partying are the furthest things from her mind.
Clark DesSoye – December 30, 2014