ACI Recognizes that its Jobs-skills Training Must be Relevant
This article originally appeared in the Fall 2016 issue of NCIA News. For more information on NCIA News, please go to National Correctional Industry Association.
When hiring, Arizona Correctional Industries (ACI) shifted its focus from candidates with experience in law enforcement and corrections toward people with private industry experience. It is still vitally important to understand how to operate within a prison complex, the security concerns and the singular nature of working with inmate populations. But, ACI also recognizes that the jobs-skills training provided in its central office and shops must be relevant; there should be jobs outside where the skills can be used.
ACI is definitely run like a private business, using the latest enterprise resource planning (ERP) and accounting software on state-of-the art computer systems. High-speed data networks connect the 23 shops with ACI's central office making communications and order processing instantaneous. The inmates who perform all clerical duties in the sales and accounting operations learn how to use the types of ERP and communications tools that help accelerate private business growth.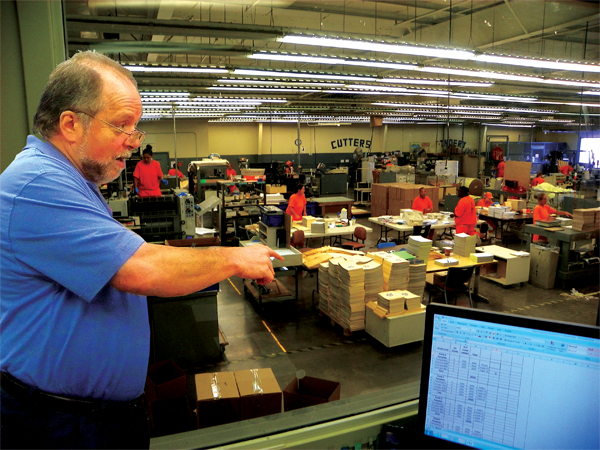 It is also important that ACI shops are run by managers who understand the industry, know how shops function effectively in private business and what equipment and technologies are currently in use. ACI is fortunate to have had the insight 14 years ago to hire Randy Bialkowski to manage its printing operations. After a very successful career working in several different industries in the private sector, including stints running printing businesses in Michigan and Arizona and as the owner/manager of a restaurant, Randy took on the challenge of updating ACI's print shop.
"When ACI approached me about running their print shop inside the Perryville Prison Complex, I was very skeptical," Randy admits. "I'd never worked in government and didn't even know that correctional industries existed. Then they told me that my entire work crew would be women!"
Traditionally, men run, maintain and operate the complex machinery in a printing facility. Women would often work in the bindery area or doing the collating and other low-skill, labor-intensive operations. But, as Randy remarked, "I'd never worked with women press operators."
"I had very little experience supervising women at all, so I was not sure how things would work out here," Randy continued. "I soon discovered that women actually listen to ― pay attention and retain ― what I tell them. I remembered that the men I'd worked with were more likely to say 'just show me how to turn it on and I'll figure it out; I don't need a manual.'"
What at first seemed like an issue, quickly turned into a big plus and he was able to start converting the rundown, antiquated printing operation into a state-of-the-art facility.
One of the latest purchases was in response to the need for direct data transfer, shorter lead times, small lot orders, and higher printing quality prompting the move from traditional offset to digital printing.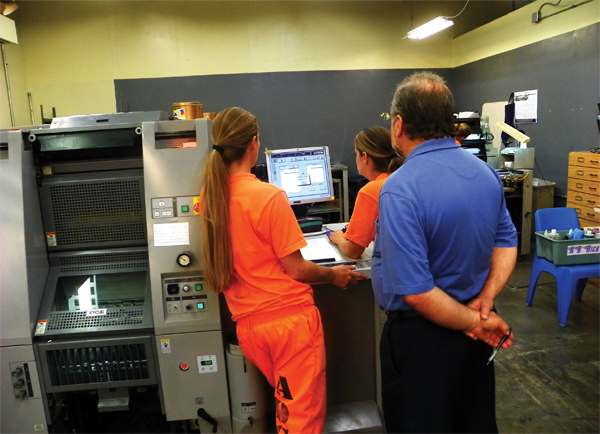 The RYOBI 3404X-DI digital offset press meets such demands by directly using prepress data to quickly print the number of sheets needed with uniform high quality. This state-of-the-art press was jointly developed by Ryobi and Presstek Inc., of the United States. The popular direct imaging system was recently professionally re-calibrated, as systems like this should be every few years. Higher productivity through direct printing of received data, plus user-friendly operation achieved through extensive automation, is combined with the high printing quality of offset printing.
"Over the last 14 years, most of the equipment in the print shop has been updated," Randy explains, "and our talented inmate crews have quickly learned how to operate and maintain everything; the right way!" Today ACI equipment is on a par with what private print shops are using in Arizona. "Our prepress and digital-press use the most up-to-date technologies."
Well Rounded Learning Opportunities
While all these equipment updates were taking place, the Department of Corrections' Inmate Education unit partnered with Rio Salado College to provide extension classes inside the print shop. The instructors bring real-world graphics training and state-of-the art knowledge to the students — and they often apply what they are learning to printing projects that come into the shop, especially those from state agencies and small businesses with no digital graphic capabilities on staff. In many ways the creative graphic skills learned in the extension classes are the perfect complement to the digital printing technologies that drive the new equipment.
"I've worked with some great creative people over the years," Randy claims, "who had no clue how to prepare their files for printing. We still get digital files all the time with photographs embedded in them using RGB colors instead of CMYK. Digital graphics on screens and the internet look great with RBG colors, but creating colors with ink instead of light is entirely different. We're helping improve their digital graphic skills by ensuring that they know how to output printer-friendly files."
In the last two years, the shop has also purchased the same print job estimating software used by most government print shops. "With so much of the new equipment driven by technology, it means that the women who learn how to use it here in a print shop will be able to apply that skill in a private print shop once they are released," Randy explains, "And those skills are transferable to many other technology-driven industries on the outside."
Several of the inmates who have worked in the shop have gone onto careers in private-sector printer operations. One worked in the Kingman Arizona newspaper's print shop for a while and another recently worked with one of the print shops that Randy regularly partners with on certain jobs. "We have the capability to do some really great work here, but we simply don't have the equipment nor the expertise to do every print job the sales team brings in," Randy continued, "I concentrate on doing those things we can do very well and we'll send work to other area print shops who can do those things that they excel at. We have a great relationship with some of the other local printers who will, in turn, send work to us that they know we can do well at a good price, on their schedule."
By consciously keeping up with industry technology trends, ACI remains competitive in a market where, in the last ten years, about half of the private printers in Phoenix have gone out of business. By having shops run by managers with private business experience in those industries, ACI ensures that the inmates will have the skills they need as they transition back to civilian life.