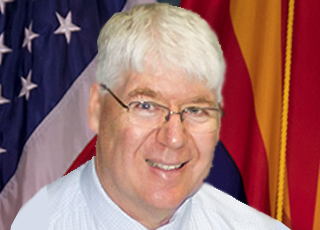 ADC employee since 1995
B.A., Brigham Young University
A Certified Public Accountant with over thirty-five years experience, Dale came to ACI because he did not find making rich people richer very satisfactory. He has enjoyed his (gasp) twenty-three years at ACI, helping increase sales from less than six million dollars a year to more than forty-three million dollars in 2016. During that time, he has supervised hundreds of women inmates as they learned the fundamentals of corporate finance as a vital part of ACI's success. Watching them grow as individuals, gain confidence in their own abilities, learn to take on greater responsibilities and challenges, and move into fulfilling careers after their release, reminds him every day of the importance of ACI's mission. He never has a boring day in this unique working environment. A graduate of Brigham Young University, Dale enjoys the great outdoors, where he and his wife Brita can often be found hiking (a favorite is the Superstition Wilderness), biking (the top of their list is Zion's National Park) or backpacking rim to rim at the Grand Canyon. They also love spending time with their nine grandchildren, "who are more fun than children," Dale confesses, "they really keep you busy." To keep his mind active, Dale has been a Geocaching enthusiast since long before Pokeman Go started getting Millennials out of the house. He is also active in his church, helping to improve the lives of people in his community. For Dale, his work and home life is filled with fun and rewarding experiences, made all the better because of the great people with whom he gets to share them.