More than Two Million Inmate Work Hours Generated Over the Years
The Arizona Correctional Industries Annual Meeting was held at Noah's Event Center in Chandler, AZ, on Wednesday, September 28, 2016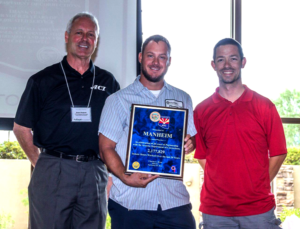 CEO Brian Radecki talked about the many strong labor contract partners that ACI has been privileged to work with over the years. "We are fortunate to have three our labor contract partners that have been working with us for twenty or more years. Last year we celebrated two of those partners, Hickman's Family Farms and Televerde. Today we want to recognize the third one." "We usually refer to them as Greater Phoenix Auto Auction, but they are actually Manheim, an international company established in 1945 as a wholesale vehicle auction operation."
"A subsidiary of Atlanta-based Cox Enterprises, Manheim is transforming the wholesale vehicle buying and selling experience through investments in technology and innovative products and services. Manheim markets many respected brands to the remarketing industry in 11 countries, including Australia, Turkey and the United Kingdom."
"Manheim has set the industry standard for buying and selling used vehicles at live auctions and online. They bring together qualified sellers and volume used vehicle buyers, including automotive dealerships, banks, car rental agencies, car manufacturers and government agencies. Manheim offers its customers a reliable and secure market in which to purchase a variety of vehicles and services that no other remarketing provider can match."
"Manheim is a socially responsible corporation that cares about its employees, the environment and the communities it serves. From fundraising drives to tutoring kids after school to supporting long-term conservation efforts, Manheim and its employees are dedicated to protecting the environment and giving back to their communities."
"The inmates who make the trip from Perryville to Manheim's facilities each day, help prepare automobiles for sale. They carefully clean and polish them to show off the cars in the best possible light. In fact, this detailing crew recently won a company award for their work preparing vehicles for a recent auction."
"During the twenty years since this partnership began, having a reliable workforce to do this detailing work freed up management to explore and adopt many technological innovations that have transformed their business and their entire industry. For instance:
In 1997 Manheim Online was named one of Top Ten e-commerce sites by PC Week
By year end 2003 there were 65,000 dealers enrolled and using Manheim Online
Their Online Vehicle Exchange was launched in 2004
In 2009 they processed three million online transactions
And in 2011 their Mobile site enrolled their two millionth user!"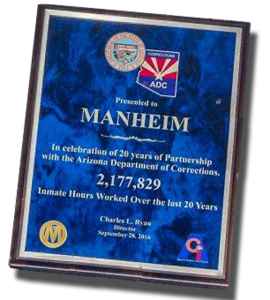 "Today, Manheim has 20,000 employees in 122 operating locations around the globe. It is the world's leading provider of vehicle remarketing services. Manheim registers nearly 7 million used vehicles annually and facilitates transactions representing almost $46 billion in value." "It is wonderful to see how Manheim has become an industry powerhouse." "In recognition of our twenty-year partnership that has generated:
An average inmate workforce of 38 per day.
A total of 2,177,829 inmate work hours."
"We want to present Recon Manager Mike Hamburg and Patrick Pendergast from Manheim Phoenix with this plaque, celebrating our twenty-year partnership."
"Thank you, gentlemen, for helping us help turn around the lives of hundreds of offenders."