Purchasing Manager Vicki Fitzpatrick, Performs Critical Role at ACI
This article originally appeared in the Spring 2015 issue of NCIA News. For more information on NCIA News, please go to National Correctional Industry Association.
"It's a fun job," says Vicki Fitzpatrick, CPPB, Purchasing Manager at Arizona Correctional Industries (ACI), " there's something new every day; sometimes daunting challenges, sometimes tremendous satisfaction!" Her job impacts the central office, sales and every shop throughout ACI. Without the efficient purchasing and delivery of raw materials, the shops cannot fabricate finished products for the sales team's customers. And the pricing for many of these finished products are fixed as part of State Contracts, so she can't simply pass along rising material costs, she constantly needs to find ways to save.
Vicki regularly purchases products – from office supplies through raw fabric and steel by the ton – from more than 200 different vendors. And though some of it arrives via UPS, FedEx and the USPS, most of the products she buys each month arrive by the truckload (or several trucks). "Freight costs are a huge part of our overall expenses," Vicki explains. "Buying 40,000 pounds of aluminum from a supplier in Chicago is a lot different than ordering two dozen sets of shampoo and conditioner to restock the shelves in the hair salon I owned 20 years ago in West Virginia."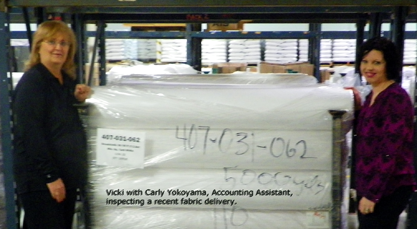 Born and raised in Arizona, Vicki began her family here and enjoyed a comfortable life as co-owner of a hair salon in Glendale, just outside Phoenix. But when her husband's mother got ill they headed east to help with her care. "I really loved the four seasons in the Appalachian hills," she recalls, "that was totally new for me coming from the desert here." She had settled in nicely, started a new business and dealt with her teenagers' complaints about uprooting them to move east, when her husband, a West Virginia native, suggested they move back to Arizona. With most of her family still here and their children off to college, she quickly agreed.
She had grown tired of the salon business by then, so decided to explore other options when she moved back to Glendale. As a small business owner she had learned – by necessity – many accounting, payroll, purchasing, invoicing and management skills that she could provide in many different business environments. Little did she know, when she accepted an offer as the account receivables clerk at ACI in 1997, that she'd be working at an organization that in itself is many different business environments.
Over the years since she started, Vicki has also applied and enhanced the other skills she learned in her own business. Moving to inmate payroll, accounts payable and in 2000 she became a buyer. Two years later, after two promotions, she was named Purchasing Manager taking responsibility for all procurement actions at ACI. At the same time, she was taking online classes to earn her Bachelors of Science degree in Business Management (2004) and her designation as a Certified Professional Public Buyer (CPPB, 2005). She has also taken other classes in contract administration, purchasing negotiation and other related topics to increase her skills to the benefit of ACI.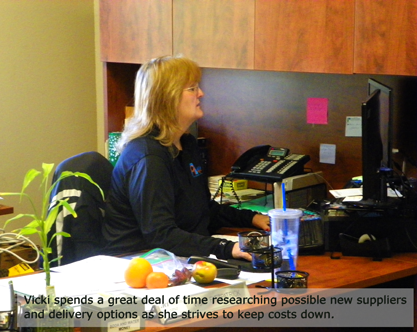 Today Vicki supervises two buyers as well as three inmate clerks and writes all RFPs (Request for Proposals) and IFBs (Invitations for Bids). She serves as chairperson at proposal evaluation committee meetings, evaluates contracts and researches current procedures and procurement rules and regulations. In addition to writing and reviewing contract components, negotiating contracts and monitoring contract compliance, she also develops policies and procedures for contract management and relays them to the staff.
On her résumé all this seems like a typical career in a typical business. But to really understand the challenges of her job, you need to understand ACI.
Not quite a private business, not really a state agency, correctional industries are a truly unique place to work. "Running your own business," Vicki explains, "you make all your decisions based on what makes the most sense for the business. But here, there are all kinds of other considerations. The big ones for me are the State Procurement Office (SPO) regulations."
As with any government agency, there are rules established to ensure that certain contractors and suppliers do not receive special treatment in the goods and services they sell to the agency. They are a good protection for taxpayers who can be assured that companies are not unfairly profiting from government contracts. Over the years these rules have generated good and bad reviews, famously soliciting questions like, "do you really want that bridge built by the contractor with the lowest bid?"
"If all I had to do was put out bids and then buy from the lowest one, my job would be easier," Vicki explains, "But there's a lot more to it than that. I need to consider the reliability of the supplier, their soundness as a company (if I sign a five year contract with them will they still be around if five years) and myriad other intangibles." The biggest challenge for Vicki when she moved from private industry to ACI was managing staff and inmates. "When you're the boss and owner," she explained, "you can hire, promote, incentivize and let people go based on your own judgment. Done. But here it's a whole process with HR and management and sometimes even waiting for legislative approval when it comes to staffing."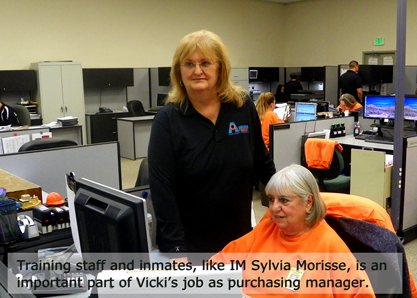 "The inmates I work with have surprised me with their professionalism and positive approach to their jobs. I really enjoy working with them," she grinned, "I constantly have to be careful not to blur the lines. As much as we want to treat them exactly the same way we treat paid staff, they are inmates in our custody and we need to keep that separation." Another difference working with ACI, as opposed to a private business, is the variety of products and services offered. Usually a sign maker just makes signs and a metal fabricator just makes fences or benches or enclosures. At ACI there's a sign shop and a metal fabrication shop and a print shop and several sewing shops and wood and upholstery shops, "then one day a couple of years ago they tasked me with purchasing food for 64,000 catfish and 100,000 neons (baby tilapia)!" Vicki exclaimed. "You're always learning new markets, researching possible suppliers, evaluating purchasing options." During her 18 years at ACI it has grown and evolved and, in many respects, become more business-like in its operations. "It's still a challenge with the constantly changing rules and regulations,"
Vicki concludes, "But I enjoy the work. I like training new staff and inmates and discovering new vendors and contractors. I've seen how we do change the lives, for the better, of the inmates we work with and that makes it all very fulfilling."
Clark DesSoye – March 23, 2015