ACI and PetSmart Team Up to Improve Payson Park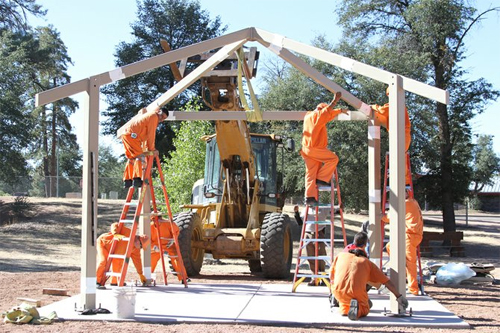 Tails will be wagging when the construction of a long-awaited shade structure at the Rumsey off- leash dog park is completed.
A $10,000 grant from PetSmart is bringing a gazebo to the Off-Leash Dog Park in Payson, Arizona. "Work on the structure was started this week and is expected to be completed soon. Arizona Department of Corrections inmates with ACI (Arizona Correctional Industries) fabricated the gazebo and came to Payson to install it," said Nelson Beck, manager of the town's parks.
"The structure will provide a welcome respite from weather and sun."
Currently, large trees line the edges of the popular dirt dog park, but there is no place for pooches or their owners to get out of the elements.
The ADC and ACI have built and installed the picnic tables in Payson parks as well. "A dedication celebration is being planned for when the work is fully completed," Beck said.
Keith Morris, Payson Roundup – Payson, AZ – October 18, 2013