Inmates Earn Certifications Attesting to their Mastery of Technical Skills
This article originally appeared in the Spring 2016 issue of NCIA News. For more information on NCIA News, please go to National Correctional Industry Association.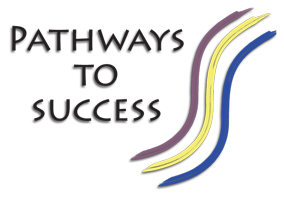 Throughout its 23 shops and 27 labor contract partnerships, Arizona Correctional Industries (ACI) has taken to heart its mission to provide job skills training. The inmates working in the program not only learn the value of teamwork and satisfaction in creating quality products, but for many they are earning certifications from independent auditors attesting to their mastery of new technical skills.
In the ACI industrial yard, where the majority of the products sold outside the Department of Corrections are fabricated, there are several certification programs available to skilled inmates. All craftsmen in the Metal Shop can train and apply for the AWS D1.1, Structural Welding Code – Steel Flux Core Arc Welding (FCAW) certification from the American Welding Society (AWS). The training and testing is provided by Certified Welding Instructors (CWI) from Interra-Inc., an independent consultant that provides comprehensive evaluations.
More than 40 inmates have received welder certification training and there are currently 24 certified welders in the shop. This important certification helps inmates secure jobs in welding industries after their release. And with these certified craftsman on the production team ACI can bid on contracts that specifically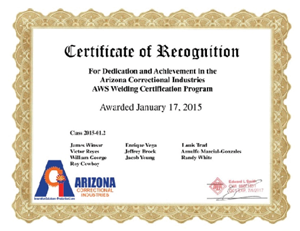 require that the work be done by people with these technical skills.
Across the yard, at the Wood Shop, many specialty training opportunities are available. Many of the vendors and suppliers to these shops provide intense training on the use of their products in ACI operations. One such program, by Wilsonart® Solid Surface, certifies that the work crew is qualified to purchase and sell their special line of countertop products. These programs not only equip inmates with valuable skills to land jobs upon their release, but also allow ACI to expand their product offerings.
Every production facility and warehouse within ACI and its labor contract partners' plants has a need to unload deliveries, move raw materials and inventory and eventually load finished products onto trucks for transport to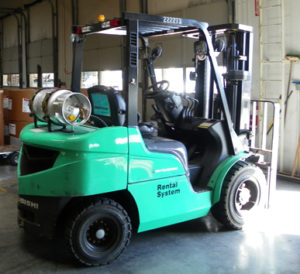 customers. The universal tool to quickly and effectively perform these various tasks is the forklift. It seems like it would be simple to operate, but actually involves a lot of skill. The load must be balanced properly and moved about with smooth, steady motions.
Learning to operate a forklift, gives inmates a valuable skill to help get employment upon their release. Many of these facilities provide Forklift Operator Training Programs like the one at the industrial yard provided by J.J.Keller & Associates, Inc.,® a privately-held company that helps businesses, large and small, deal with the complex and constantly evolving regulations that affect their operations every day. The program complies with OSHA 29 CFR 1910.178 in the safe and efficient operation of a forklift in an industrial environment. The certifications are good for three years and can easily be renewed. Some locations also provide certification training in the use of pallet jacks as well.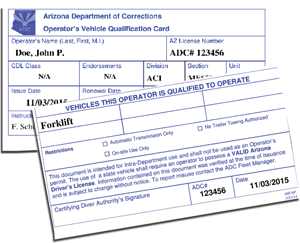 ACI is currently researching additional certification programs to help increase the professionalism of the work crews and the quality of the products they manufacture. Certification training in OSHA Hazmat, Cabinet Making and Powder Coating would validate the skills that many of the inmates in the industrial yard have already acquired and ensure that these operations are consistently performed in compliance with best practices.
Other certified skills training programs using powerful software tools like ACI's ERP system, Epicor, and the 3-D CAD product design software, SolidWorks are being considered for future implementation. Since ACI has already made the huge investment in these programs and continue to pay licensing fees each year to use them, it just makes sense to learn how to use as many of their features and capabilities as possible. These types of training programs will ensure that the inmates and staff using them fully understand the many features available and the enhancements that come with each new update.
Epicor is used throughout all ACI operations and serves as the database for all accounting information, from sales orders, customer account details, purchases and payroll. A recent review of how this software is used in the various ACI operations revealed that there are many other time-savings operations that it can perform for the organization. And learning how to take advantage of these features is a priority for the coming year.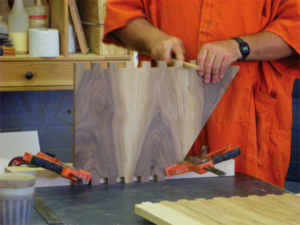 Though SolidWorks is now exclusively used in the Industrial Yard, the plan is to expand its use to other shops and the ACI Central office, so that customer service and account managers can better use it as tool to sell the many customized products the shops are capable of producing.
Classroom Training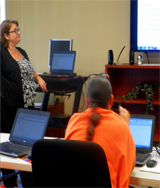 For the last two years, ACI has been providing a unique training program for the inmates and staff in its Administrative Offices in Phoenix. To further their job skills and broaden their office experience, classes were offered in the Adobe Creative Suite. Introductory and intermediate classes were offered in InDesign, Illustrator, and Photoshop. In follow up class, the participants were able to create their own curriculum to get advanced instruction in all three programs and the best ways to use each on a variety of real projects. There were also classes were in Microsoft Excel and Visio for the staff and inmates performing financial and administrative duties.
Trainers from Executive Training Solutions (ETS) in Phoenix came to ACI Central Office with laptops and workbooks for each participant to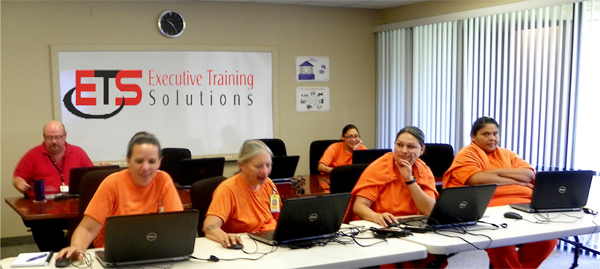 provide the intensive training. These classes were designed to assist inmates working in the Sublimation and Sales & Marketing departments. Students were encouraged to bring projects and questions they were currently experiencing to better be able to apply the training received. At the conclusion of the classes certificates of completion were offered.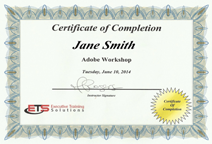 After the success of this pilot program, more classes are being investigated for training to bring new inmates up to speed in the use of these programs.