Hickman Farms Share Commitment to Teaching, Training and Employing Offenders
This article originally appeared in the Spring 2014 issue of NCIA News. For more information on NCIA News, please go to National Correctional Industry Association.
While, many Correctional Industries have partnerships with private companies, Arizona Correctional Industries (ACI) feels that they have a unique partnership with Hickman Farms … a third generation, family run business and Arizona's largest egg producer. It's unique in that ACI not only provides offenders for work opportunities at Hickman Farms, but also provides Hickman Farms with products and services. As a matter of fact, Hickman Farms is ACI's 4th largest customer. What makes the partnership even more unique – and enduring – is that ACI supports Hickman Farms' charitable efforts in the community, and both ACI and Hickman Farms strongly believe that the opportunities they are both providing to offenders will help decrease recidivism and make communities in Arizona safer.
ACI Supports Hickman Farms Giving Back to the Community
Hickman Farms management strongly believes in giving back to the communities it serves. Every year they donate thousands of eggs to local food banks and homeless shelters. They sponsor several "Breakfast-for-Dinner" Events designed to raise money for local charities like Arizona's Children Association foster care programs. They also sponsor the Governor's Annual Easter Egg Roll for the benefit of several state children's advocacy groups.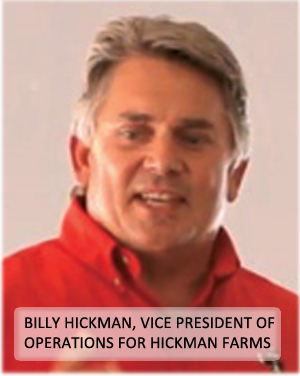 Hickman managers work with local schools and the Arizona Farm Bureau to help educate the next generation of farmers. Hickman managers also train and employ offenders on their farms and in their production facilities.
ACI and Hickman Farms – Committed to Providing Opportunities to Offenders
"We first partnered with ACI in 1995 when we learned about the program. It made sense to us that by teaching offenders employable skills we could help give them better choices once they were released," said Billy Hickman, Vice President of Operations for Hickman Farms.
"It started small … we transported a work crew of 8 – 10 men from the Lewis prison down the road from our farm. We set them to work repairing and assembling cages," Hickman continued. "It's tedious work, but they did it well so we felt confident enough to expand the program, bringing more and more offenders in daily to help fill in the gaps in our labor force."
As Billy Hickman and the other managers at Hickman Farms learned about new ACI shops coming online, they were predisposed to trying them since they were familiar with the quality of the ACI's shops and offender training programs.
One year they asked ACI's in-house graphic design team to create a wall calendar that they could send to all their wholesale customers. From there the ACI print shop was able to print, label and mail the calendars well before the start of the New Year and Hickman Farms was front of mind for grocery store dairy managers all year long. Other printing jobs followed and today ACI regularly prints product labels, mailing pieces, flyers, calendars, coupons, newsletters and other promotional materials as needed.
Over the years they've come to ACI to get professional and long-lasting job-site and directional signs to use throughout their farms and factories. ACI makes customized work crew clothing for them and the durable picnic tables, benches and other outdoor furnishings used by workers and the many visitors they receive each year.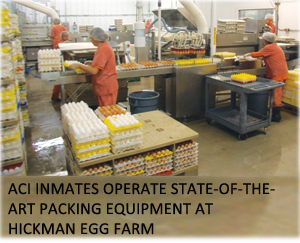 Managing a growing enterprise, with huge farm and factory work crews, is always a challenge. But thanks to the skills they've learned over the seventy-plus years they've been raising chickens, they have got it down to a science. From their state-of-the-art processing facility (featured on cable TV's "Dirty Jobs with Mike Rowe" – season 3; episode 19; Egg Farm) to their waste processing and recycling operations, they take their role as good corporate citizens and responsible conservators of the environment seriously. And passing on these skills and sensibilities to a new generation is vital.
"We've taught and trained thousands of offenders over the years," Billy Hickman boasts. "We want them to understand all aspects of our business from maintaining and repairing the coops and equipment, driving forklifts, moving pallets, welding, vaccinating and raising birds, working the production lines to helping with new building projects."
The workers can earn certifications for some of the highly skilled positions they learn. "We regularly provide work references for former offenders," volunteered Billy. "We help them write their résumés and provide referrals. And we are very open to hiring them after they're released. In fact, many of our managers are former offenders who participated in ACI programs here and elsewhere."
"For many of these inmates, coming here each day was their first experience in a real work environment. In addition to the skills they learn, they acquire good work habits," added Bob Sheade, Inventory and Production Analyst and former offender in the ACI program. Bob supervises the offender program at Hickman. He knows firsthand how, "offenders learn about taking responsibility for themselves and their vital roles on their work crews."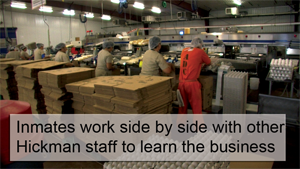 "One of the big myths of the program," Billy explained, "is our huge labor cost savings. We've done dozens of studies over the years and we're not really seeing a significant financial benefit. But that's OK with us. We believe in the program. We participate because we share ACI's mission to contribute to the rehabilitation of these men and women who somehow got onto the wrong path in life."
Billy Hickman summed up Hickman Farms' commitment to ACI, "For us it all comes back to giving back to the community … the state, being good corporate citizens."
"Sure, we're in business to make money and provide a comfortable life for our families. But we can do that while we also do our part to help our neighbors, those less fortunate than us, those who've made mistakes. Ultimately that brings comfort to all of us, because a neighbor who's well-fed, employed and comfortably well off themselves, can also contribute positively to the community—and become a good customer!"
But the bond between Hickman and ACI is more like a partnership as they share a commitment to teaching, training and employing offenders to make quality products and lead productive lives.
Clark DesSoye – June 30, 2014